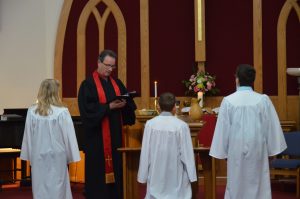 We invite you to join us to experience first-hand our congregation's warmth and style of worship. We have put together some information to answer the questions you might have regarding our Church. If you are wanting more information, please contact our office. Click here to view photos.
When do you worship?
Sunday service starts at 10:00a.m.
Once a month during the Summer from April through October, we gather for a Saturday evening service beginning at 5 p.m. On those weeks there is no Sunday service or Sunday School. Please check the church calendar for the dates of our Saturday services. 
What is your worship service like?
Our Worship service usually lasts about an hour. Our service includes congregational hymn singing, pipe organ and piano music, prayers, scripture readings, a children's message, a message from the pastor, and an offering. Our worship service emphasizes deepening our relationship to God, following Jesus, and serving others. We use both printed materials and sanctuary projection to aid in our worship experience, and we have large-print bulletins and hearing assisted devices available.  While our service follows a traditional format, we are relaxed in worship and enjoy humor and spontaneity. Dress is informal—come as you are!
Once a month, usually the first Sunday of the month, we share the Sacrament of Holy Communion. You do not have to be a member of the church to share communion with us. In fact, we welcome all who wish to join us, including children.
Following worship we enjoy gathering for coffee and refreshments in Fellowship Hall—you are welcome to join us!
Are children welcome in the worship service?
Children are always welcome at First Congregational UCC! We encourage parents to allow their children to be full participants in the worship service. There are activity bags for children to use during the service, and a cry room is available next to the sanctuary in the East Chapel.
Do you have a nursery?
We do not currently staff a nursery but a "Cry Room" is available next to the sanctuary. We also offer activity bags for children to enjoy during worship.
Where should I park?
On-street parking is available on the north side of the church on Bank Street, on the west side of the church on Willson Avenue, and on the south side of the church on Dubuque Street.
How do I enter the church?
We have a northwest entrance on Bank Street that takes you directly into the sanctuary, and a west entrance on Willson Avenue that has an elevator and stairs leading to Fellowship Hall, the sanctuary, and the classrooms in the lower level.
Is the church accessible to all?
Yes, the west entrance on Willson Avenue is on ground level, and there is an elevator to take you the upper or lower levels of the church.
Is there Sunday School?
We have an Adult Education class beginning at 9:00a.m. The class recesses the Sunday before Memorial Day weekend and resumes after Labor Day weekend. There is no children's/youth Sunday School at this time. We do have an after school program for kids: KLAB (Kids Learning About the Bible). Please call the church office for more information.