Our worship services bring us together to worship the Triune God, to sing hymns of praise and thanks, to join us together in prayer, and to lead us to a deeper commitment to Jesus Christ and Christian discipleship. Once a month (usually on the first Sunday of the month) we observe the sacrament of the Lord's Supper. We practice open communion, and welcome all to the Lord's table!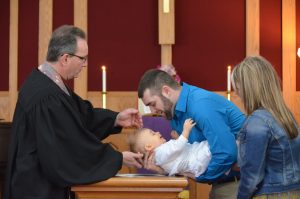 Throughout the year we gather for special services on Christmas Eve, Ash Wednesday, Maundy Thursday, Easter, Pentecost, and All Saints Sunday.
From April through October we gather once a month for a Saturday evening service at 5 p.m., which is a more informal and contemporary service than our regular Sunday services. Please see our church calendar for dates and times for our worship services.
Our Worship Board works with our minister to plan our church's worship services, both at the church and at local nursing homes. The Board plans the dates and times for all of our worship services, and plans for communion, prepares the elements, and assists in the serving of the sacrament.  The Board also oversees our Saturday worship services, and recruits musicians to share their gifts during worship.