The mission of the Women's Fellowship is to serve the members of the Church through fellowship, spiritual development, education, and giving.
Four circles make up the main body of the Women's Fellowship.  Circles meet monthly during September through May.  Meeting times differ between circles to accommodate all who wish to join.  There are morning, afternoon and evening circles. Monthly meetings entail a devotional, a study, and a brief business meeting.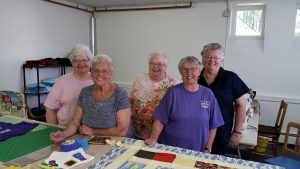 The Executive Board oversees the various functions of Women's Fellowship.  Those functions include:
Resource Committee: Responsible for the monthly study programs and determines how the year-end funds are allocated to various missions.
Public Relations:  Reports activities to the local radio and paper.
Thrift Sale Committee: Organizes the semi-annual thrift sale.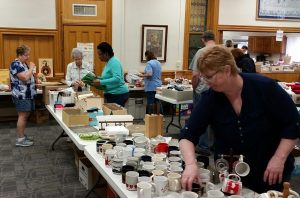 Friendship Committee:  Sends cards, flowers and other messages to members and friends of the church as the occasion arises.
Piecemakers Committee:  Uses their talents of sewing and quilting to make items for the community and for missions.  They also provide quilts for baptisms.
Funeral Committee: Responsible for arranging for dinners or receptions for funerals held at our church or requested at local funeral homes.
House Committee: Responsible for the care and maintenance of the church kitchen and its equipment.
Special Dinners Committee: Responsible for arranging for dinners, coffees and receptions that the church requests.
Service Committee:  Members volunteer their services to work at funerals, furnish food and serve at special events.
The Women's Fellowship also hosts a Christmas luncheon and a May dinner.