The Board of Christian Education oversees the educational ministries of the church. We offer weekly Sunday School classes beginning at 9:15 a.m. for pre-K, k-3rd grade, 4-7th grade, High School, and adults.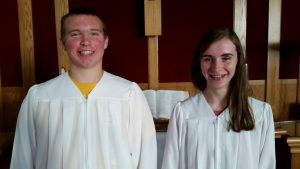 KLAB (Kids Learning About the Bible) is an after-school activity on Wednesday afternoons during the school year for kids kindergarten through fifth grade. They enjoy games, snacks, crafts, a Bible lesson, and other special activities. It is well attended and the children all enjoy and look forward to KLAB.
Confirmation classes are offered to youth in the 8th grade, and use UCC resources, field trips, and service projects to prepare confirmands for a life of discipleship.
The Board plans an annual Rally Day in September, along with special recognition events such as graduation and confirmation.
Our doors are always open and we welcome visitors of all ages!